Here's a collection of our favorite Natural Homemade Laundry Products. These are easy to make and use on your clothing and linens. They include Homemade Laundry Detergent, DIY Dryer Sheets, Homemade Laundry Stain Remover, DIY Fabric Softener, & more items on your next laundry day.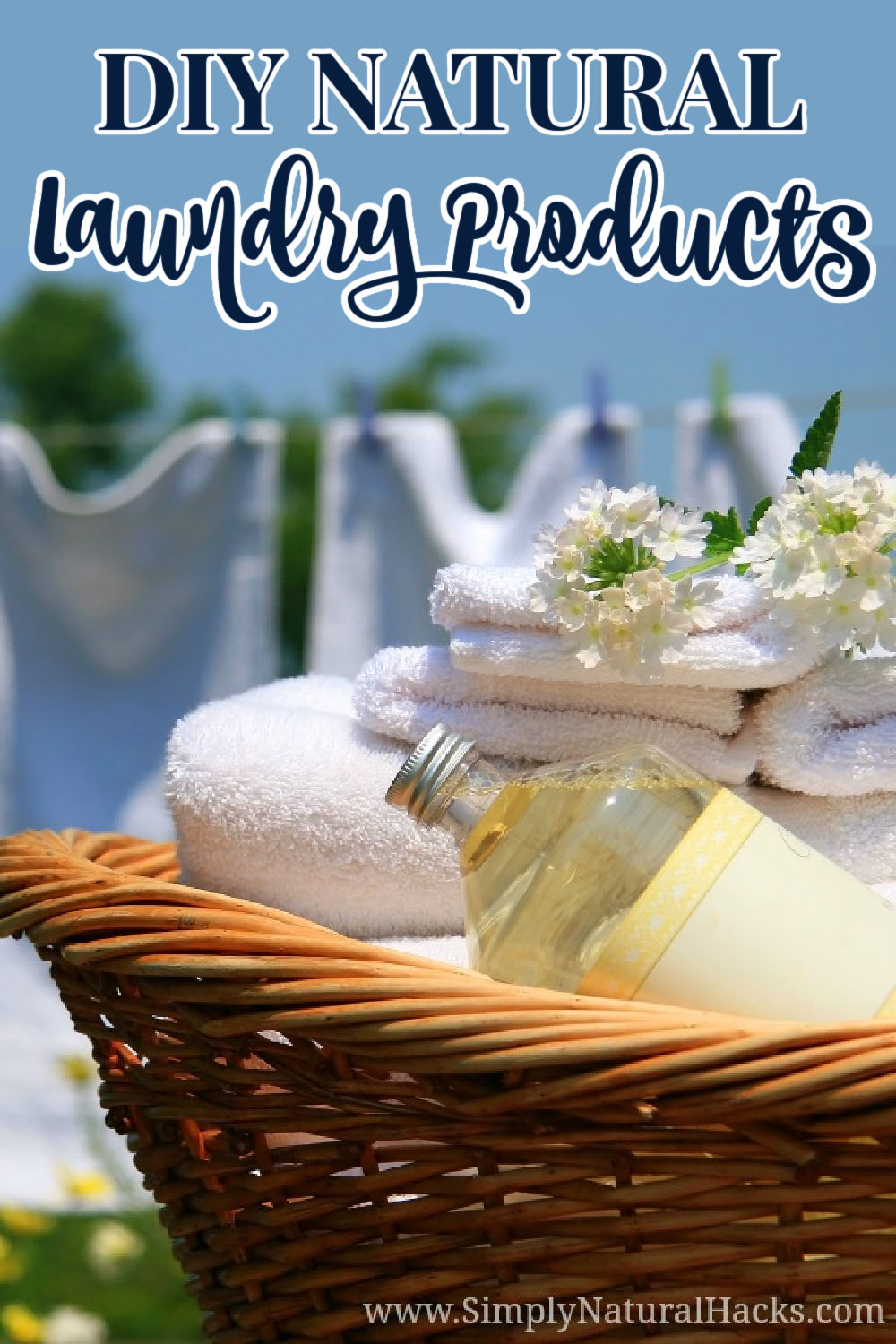 Doing the laundry is quite a chore. If you're anything like me you tend to procrastinate when it comes to getting this chore done. Unfortunately, this leaves you with piles of it to do when you finally run out of clean socks. One thing I didn't like about doing laundry was all the chemicals. Now that I've switched over to making my own natural laundry products for cleaning, laundry is less of a chore and more of just another way that I keep my family and my home safe.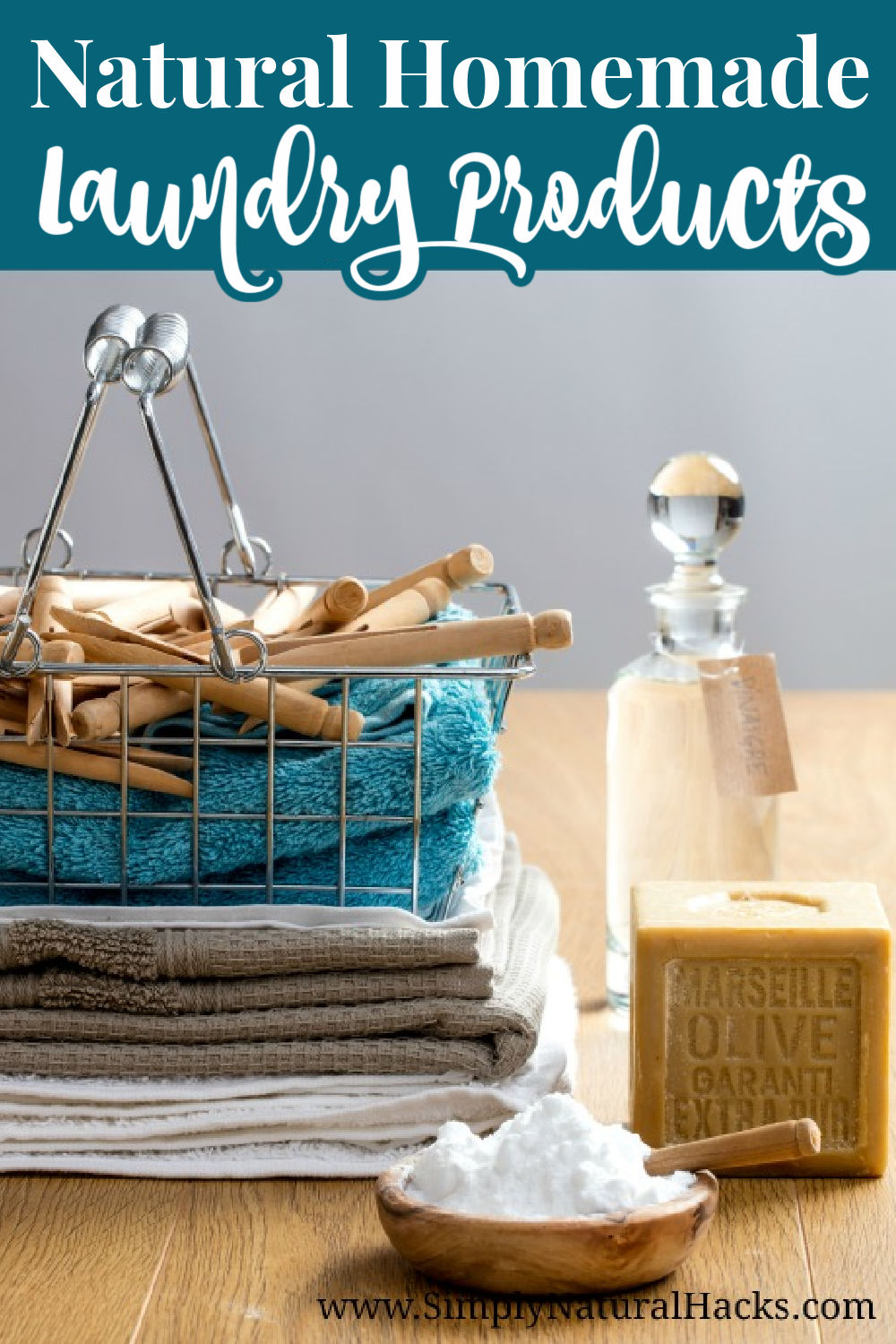 There are many DIY laundry products for natural cleaning out there, as well as some wonderful products you can buy in the store. Let's look at some of these DIY laundry products and I'll let you know of some store-bought alternatives in case you don't have time to DIY all of your own.
Natural Homemade Cleaning Products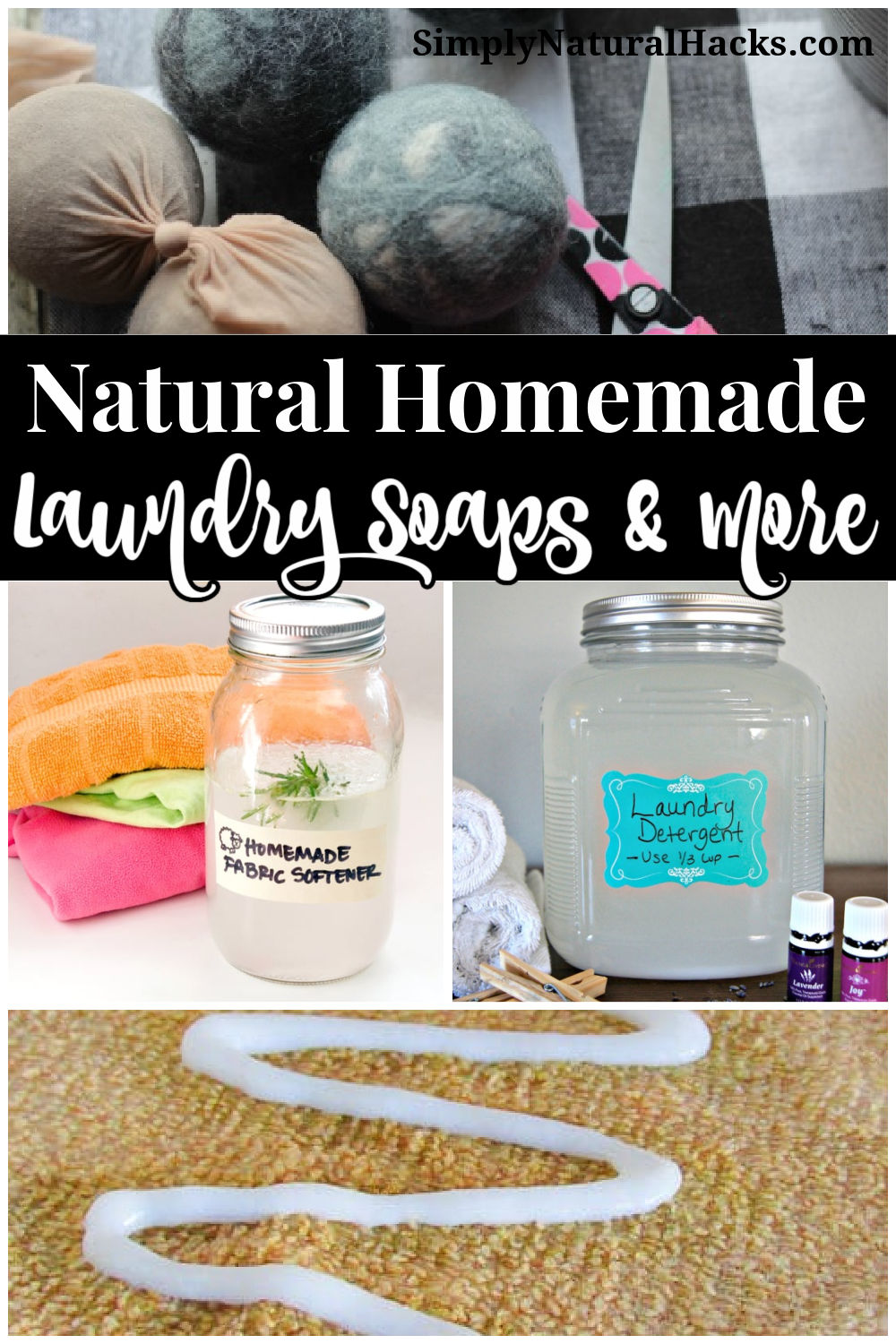 Natural Laundry Detergent
Let's start with the biggest need in order to clean your clothing: laundry soap. Make your own chemical-free liquid laundry detergent with this recipe from Dwelling in Happiness. It's very easy to make and is also frugal, too.  
If making your own liquid laundry detergent isn't your thing, I highly recommend Ecos liquid laundry detergent. The Magnolia and Lilies scent is my absolute favorite.
Natural Fabric Softener
Fabric softener can be made with natural ingredients, too! This Homemade Fabric Softener from Popsugar sounds like its smells amazing with the natural herbs in it. It's very low cost to make.
I recommend Seventh Generation Lavender Fabric Softener if you don't want to make it. The smell is absolutely intoxicating.
Mildew Remover
You can easily remove the mildew smell from your clothing, towels, and other linens. Just add a cup of vinegar to the wash cycle. I promise you will not be able to smell the vinegar after the load has finished the rinse cycle.
For a natural way to boost scent in your laundry and make your home and clothes smell awesome, try this recipe for Homemade Laundry Scent Booster from Simply Shellie.
Natural Stain Remover
With laundry usually comes stains one must tackle. This All-Natural Homemade Stain Remover from Bred Did is very effective for many types of stains and is a great alternative.
BioKleen Bac-Out is another great product you can use for stain removal. Not only is it naturally derived, but it helps to remove stains as well as bacteria and odors from your laundry.
Natural Dryer Sheets
Dryer sheets contain lots of toxic chemicals, but these Homemade DIY Reusable Fabric Softener Sheets from the Six Dollar Family are a frugal and natural solution because they can be used over and over.
If you still want the convenience of dryer sheets and don't want to make them, Seventh Generation does make some dryer sheets in Lavender and Blue Eucalyptus that smell amazing.
Dryer Balls!
Finally, a great way to save money on not only dryer sheets, but also time and electricity naturally is by using wool dryer balls. They help speed up drying time by a lot! Here are some DIY Wool Dryer Balls you can make.
You can also purchase them from Woolzies. They are very easy to use. Just pop several in with your clothes and they will help agitate and separate in the dryer to help get more air in between your articles of clothing.
More Homemade Natural Cleaners