Learn how to make DIY Beauty Products with Essential Oils from this guide.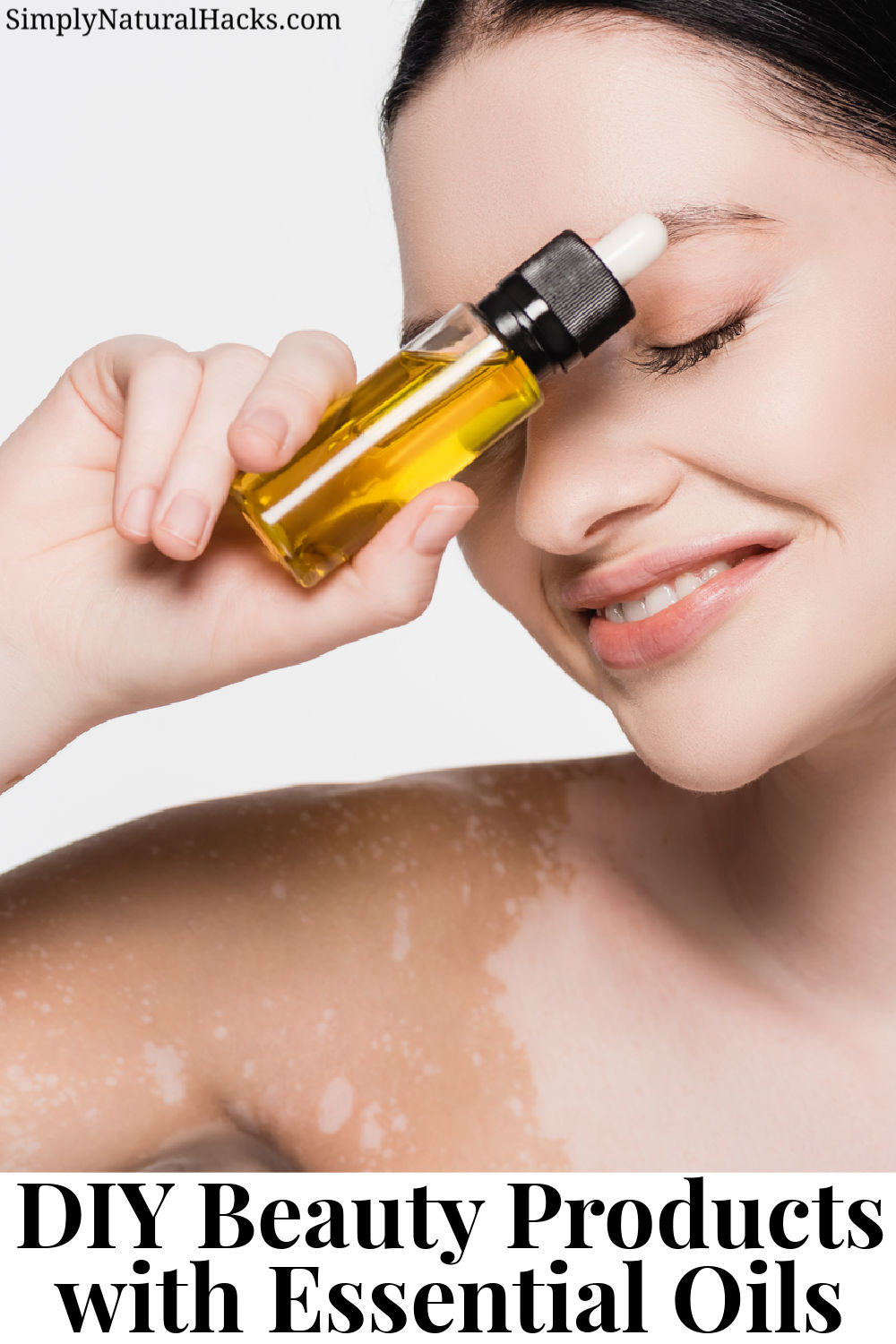 I have been making many of my own beauty products for many years. Not only does it save me money, but I love knowing that I control ingredients and that the products are fresh. Because they are fresh, and easy to make, I make them frequently. Essential oils are an ingredient you will find in most of the ones I make, too, because they not only smell great, but also have some good benefits to hair and skin. Here are some DIY beauty products with essential oils for you to try making at home, too!
DIY Beauty Products with Essential Oils
Make these DIY Perfume Roller Bottles with Essential Oils and give some away as gifts! They are great for sticking in a purse and it's fun to come up with your own combinations to make a fragrance that's uniquely you!
Try this DIY Hot Oil Treatment for Hair if you need an extra boost in your hair care routine. The recipe includes different essential oils to add to the basic recipe for different needs like controlling dandruff, adding shine and moisturizing.
Kiss many skin issues goodbye with this Turmeric Body Scrub. It can help with issues such as scarring, acne and inflammation and it's super easy to make.
Make yourself these super easy Peppermint DIY Lip Balms for a nice addition to your purse. They are perfect for making as a batch and giving away for gifts, too.
If you have sensitive skin, this Homemade Honey Lavender Face Wash might be the perfect one for you. It is gentle and soothing on the skin and even has some moisturising properties. Plus, it smells fantastic.
Pair your face wash that you made above with this easy to make Honey Lavender Night Cream. It adds a very nice boost in moisture so you have dewy skin the next day.
Take off the day with these easy to make and use Homemade Makeup Remover Pads. They even takes of waterproof makeup and are gentle!
Check out this 3 ingredient DIY Baking Soda Face Scrub from Saved By Grace as a great exfoliant. You can tailor your recipe for your skin concerns, too.
This DIY Charcoal Foaming Scrub from Saved By Grace is great for those wanting to give charcoal skincare a try. It can help with pulling out stuff from the pores.
One Essential Community can help you complete your skincare routine with this DIY Toner with Essential Oils. It only has 3 ingredients so it's extra easy to make.
Check it out; you CAN have nail polish remover without the headache with this recipe for DIY Nail Polish Remover with Essential Oils from The Hearty Soul.
Alluringsoul has a solution if acne has you down. Check out her recipe for DIY Acne Gel and kiss those blemishes goodbye while also being gentle to your skin.
Check out this DIY Glow Serum from The Dandy Liar for skin that is dewy and bright. It is good for all skin types, even oily!
As part of my makeup routine, a setting spray has really made itself essential. Check out this DIY Makeup Setting Spray from Style Tips 101.
Keep cuticles and nails looking sharp and freshly manicure with this easy to make DIY Cuticle Oil Recipe with Essential Oils from Eco Living Mama.
More Organic Beauty Links