Use these tips to learn how to make & use DIY Cleaning Products with Essential Oils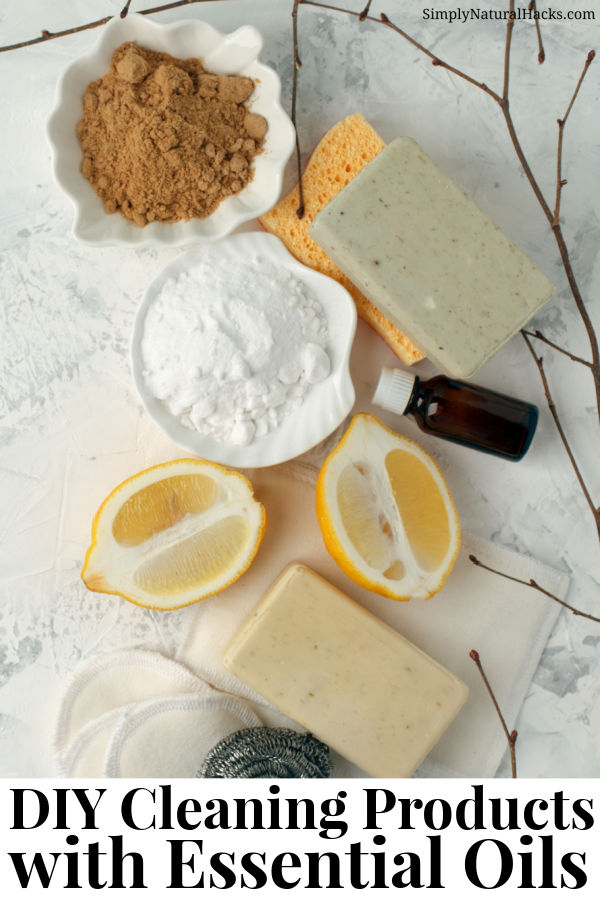 Essential oils have really become a part of many people's households these days and for god reason! They are great for many things from scenting your home to cleaning it. You don't need to have a ton of them, either. Just a few basic ones will help you around the home for most projects and needs. One of my favorite uses for essential oils is in cleaning various parts of my home and I put together a list of great DIY cleaning products with essential oils so you can get started with it and save money doing so as well.
DIY Cleaning Products with Essential Oils
This DIY Linen Spray with Rosemary and Lemongrass smells so amazing and is a wonderful way to refresh your rooms.
Check out this DIY Stainless Steel and Glass Cleaner for a citrus fresh way to clean multiple surfaces in your home.
Get your dishes extra clean with this Lemongrass and Grapefruit Dishwasher Detergent. If used with vinegar as a rinse agent this cleaner is a knockout one for sparkling dishes!
Make a small batch of this Homemade Laundry Soap for getting your laundry pile under control and smelling citrus fresh.
This Homemade Wood Conditioner only uses a couple of ingredients and can make your cutting boards, wood utensils and more like new!
Make this Rosemary and Lemon All-Purpose Scrub a staple in your cleaning supply cabinet for a cleaner that can make many surfaces sparkle.
Stop spending money on cleaning pads with these No-Sew Homemade Swiffer Sweeper Pads and Solution for cleaning with essential oils.
Make your toilets sparkle and smell better with this easy-to-make DIY Fizzing Peppermint Toilet Powder from Saved By Grace.
Use this DIY Dusting Solution from One Essential Community for a multi-surface cleaner that helps keep dust to a minimum.
Root & Revel has a nice DIY Natural Granite Cleaner for you to make that won't damage this notoriously finicky spot to clean.
Another great cleaner with essential oils from One Essential Community are these Kitchen & Bathroom Cleaning Wipes.
If you like super easy cleaning solutions, these Homemade Dishwasher Tablets with Lemongrass are perfect!
The Blooming Carrot has a great recipe for another kind of tab with these DIY Garbage Disposal Cleaning Tabs.
Make your leather come back to life and look clean with this Homemade Leather Cleaner made from Essential Oils .
More Links
Natural DIY Tile and Grout Cleaners
Natural Ways to Clean your Carpet