Try these natural bathtub cleaners to save money and reduce the chemicals used in cleaning your home.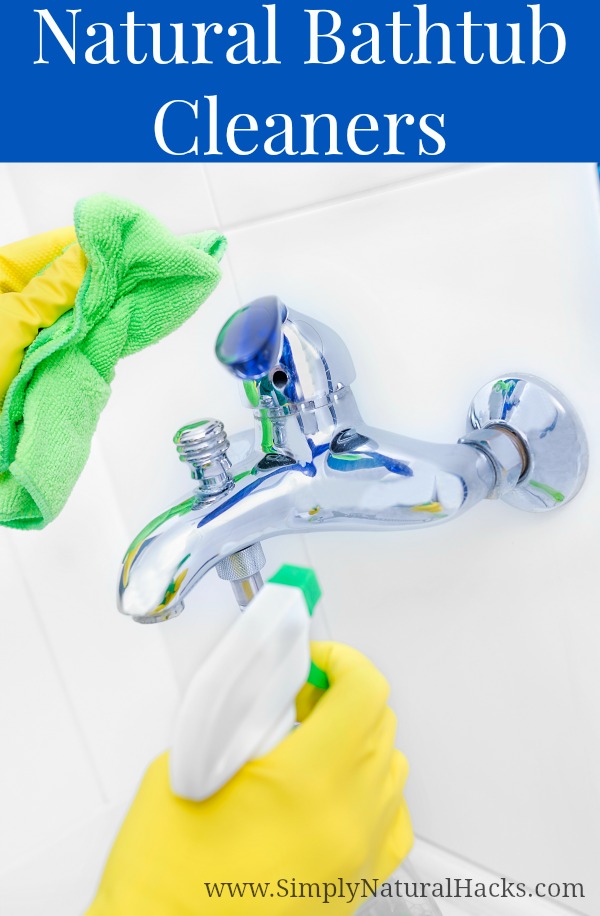 If you are like most households, your bathtub gets a lot of use. From kids to pets and even laundry and DIY projects, our bathtubs really are a big part of our lives at home. One thing is for sure, though; they are also a central place for messes, too. There are all kinds of ways to clean your tub and many products out there but most of them are toxic or harsh and filled with chemicals you would rather not use in your home. The good news is there are also lots of ways to clean your tub without them. Here are my tips on how to naturally clean your bathtub, and keep it that way longer.
DIY Natural Bathtub Cleaners
There are many DIY Natural Bathtub Cleaners out there. Here are a few of my favorite natural bathtub cleaners that I find most effective.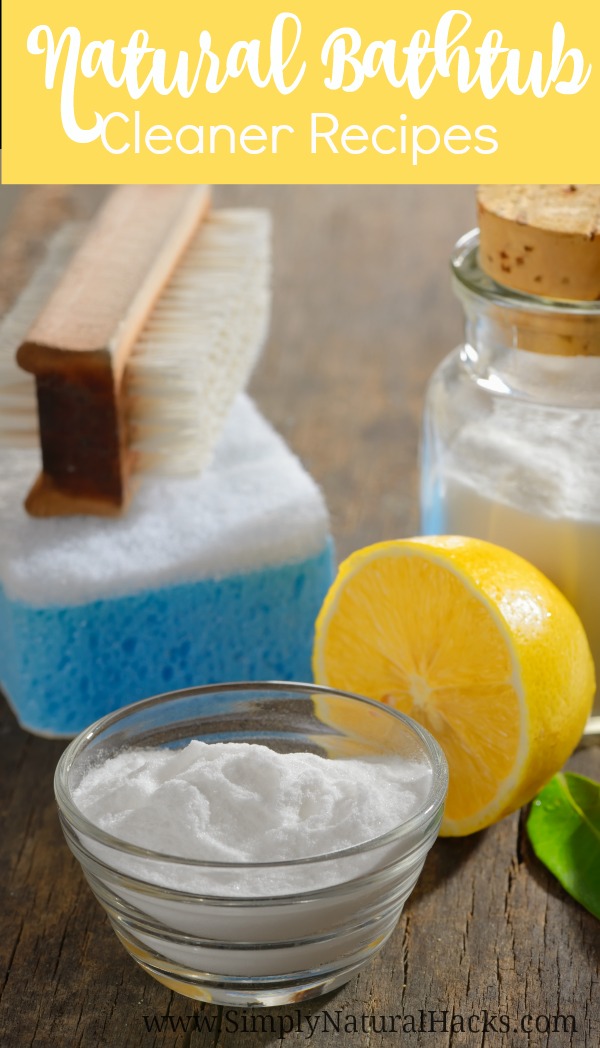 Make a paste with baking soda and water
This one requires just two simple ingredients most people already have in their home. Simply create a paste with baking soda and water by using 3 parts baking soda to 1 part water. It makes a wonderful abrasive cleaner for getting off the soap scum. For some extra cleaning action, after you scrub everything down, squirt some lemon juice or vinegar onto any hard water spots, let it sit, then rinse away, and dry immediately.
Sprinkle on some salt
Salt can be a great cleaner because it is abrasive enough to get off the gunk and it is a low-cost product. For extra cleaning power, mix in a bit of apple cider vinegar to help break up the grime.
Use cream of tartar to remove tough stains
Sometimes we find our tub has a tough stain on it and no matter how hard we scrub, it won't come off. Try making a paste with hydrogen peroxide and cream of tartar by placing a ½ cup of cream of tartar in a bowl, and adding a spritz of hydrogen peroxide, mixing each time, until a paste forms. Slather the stain with it, let it dry and the stain will come off when you rinse.
Ways to Keep Your Bathtub Cleaner for Longer
Always rinse after each use.
Rinsing only takes a couple of minutes and will keep bathtub rings at bay as well as rinse down any dirt left in the tub.
Pick up and rinse off bathtub toys.
After the kids get out, make sure to rinse off and remove bath toys from the floor of your tub. This will keep them in good shape and also allow your tub to fully drain.
Wipe the tub down with a towel after using.
After you rinse, take your towel and wipe out the tub to quickly dry it. This helps keep your seals in good shape and mildew away.
Natural Bathtub Cleaners You Can Purchase
If DIY is not your thing, here are some natural bathroom cleaners I recommend:
Better Life Tea Tree and Eucalyptus Tub and Tile Cleaner smells great and tea tree combats mold and mildew.
Mrs. Meyer's Lavender Tub and Tile Cleanser is tough on soap scum and has an invigorating scent.
Eco-Me Lemon Tub and Tile Cleaner doesn't contain sulfates, SLS or Dyes.