Use these instructions and basic pantry staples to make DIY Lip Scrubs.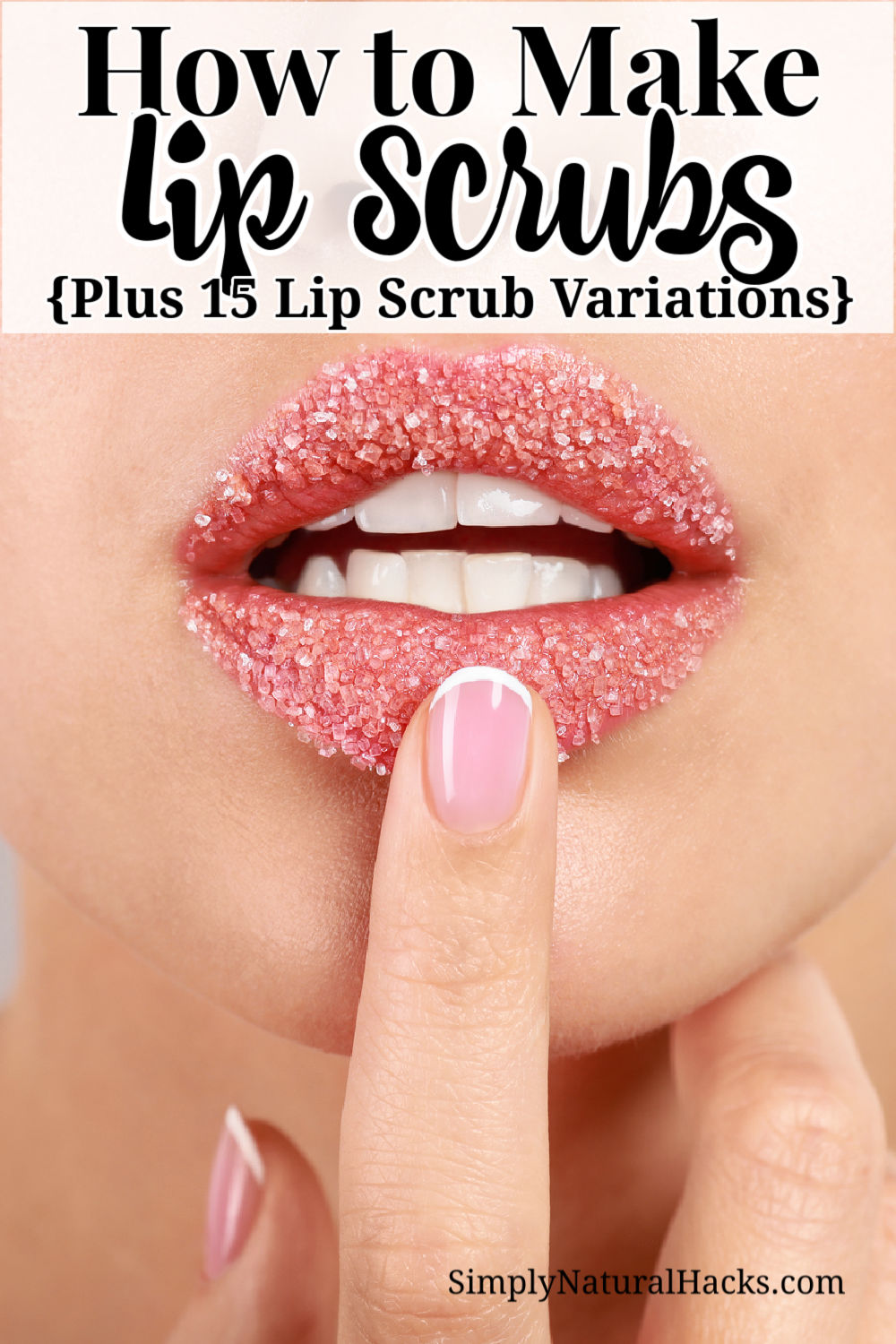 It's that time of year that it seems like no matter how much lip stuff I apply my lips are getting drier and drier and this doesn't bode well with me since I love to wear matte lipsticks. Getting your lips in kissable condition only takes a few minutes of your time from the start of making these DIY Lips Scrubs to treating your pout. Make these easy lips scrubs with some of these fun recipes that often taste as good as they work because they are usually made from edible ingredients.
How to Make Lip Scrubs
To make a lip scrub you really only need 2 ingredients: a moisturizer and an exfoliant.
Choose your Moisturizer Base:
For the moisturizer, choose a natural, and preferably edible, oil. Good options include coconut oil, olive oil, grape seed oil, almond oil, or shea butter.
Avoid petroleum products when choosing your base moisturizer.
Choose Your Exfoliant:
For the exfoliant, choose a natural, and preferably edible, ingredient that is course. Good options include white sugar, coconut sugar, and brown sugar. Coffee grounds also work in a lip scrub.
Although sea salt is edible, it is too coarse to use in a lip scrub. I prefer to use salt in a foot scrub.
Optional Additions to Lip Scrubs:
Honey – is a natural humectant, which means that it draws moisture into the skin from air
Essential Oils – Different oils have different benefits. So do a little research before choosing one. A little goes a long way, so use sparingly!
Cinnamon – plumps lips
Tips for Making Lip Scrubs
Make a small amount. You only need to use a small amount when exfoliating your lips. To start, mix 1 tablespoon of oil and 1 tablespoon of sugar – you will be surprised by how long it lasts.
Store your homemade lip scrub in a small glass jar with a lid.
Your sugar scrub will keep in the refrigerator for up to 3 weeks. If you store your lip scrub in the bathroom, you will need to toss it after 2 weeks.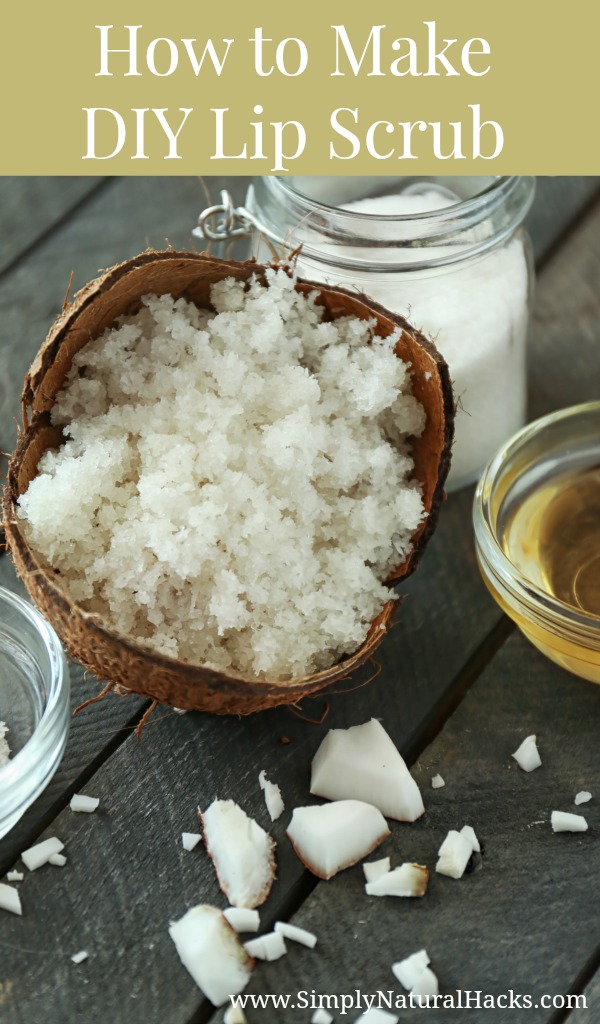 Basic Lip Scrub Recipe
Ingredients:
1 tablespoon softened coconut oil
1 tablespoon brown sugar or white sugar
1 teaspoon honey
1 drop food-grade peppermint essential oil
Instructions:
Add the coconut oil, brown sugar, honey, and peppermint oil to a small bowl.
Mix until the ingredients are thoroughly combined and form a thick paste.
Store the lip scrub in a lidded container.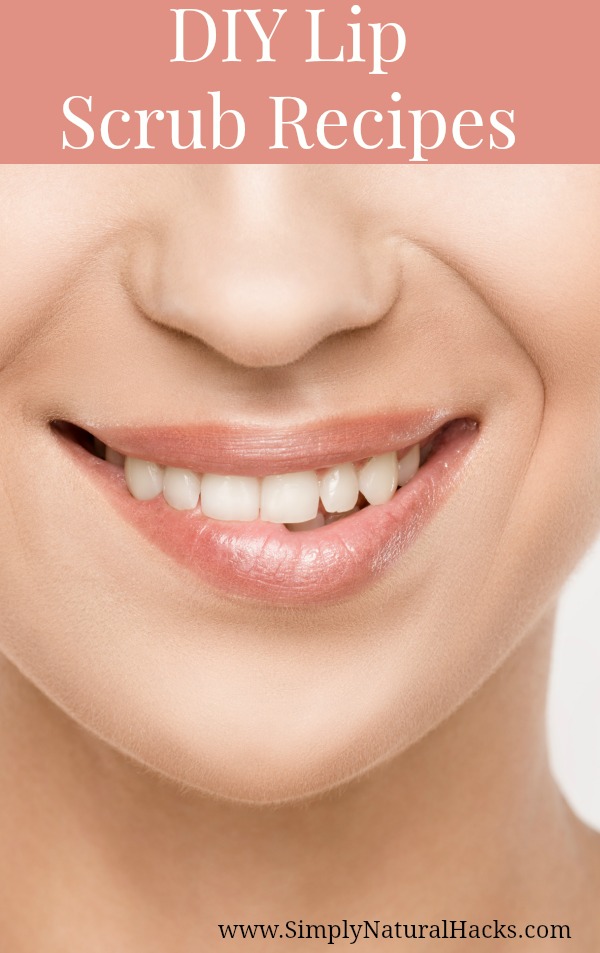 How to Use Lip Scrubs
Rub scrub into lips in a gentle circular motion. Let the scrub sit on your lips for a minute or two, then rinse off with warm water. Apply a natural lip balm or a little coconut oil to your lips.
You can use a lip scrub 1 or 2 times weekly.
Don't use a lip scrub on cracked lips. It can aggravate the injury.
DIY Lip Scrub Recipes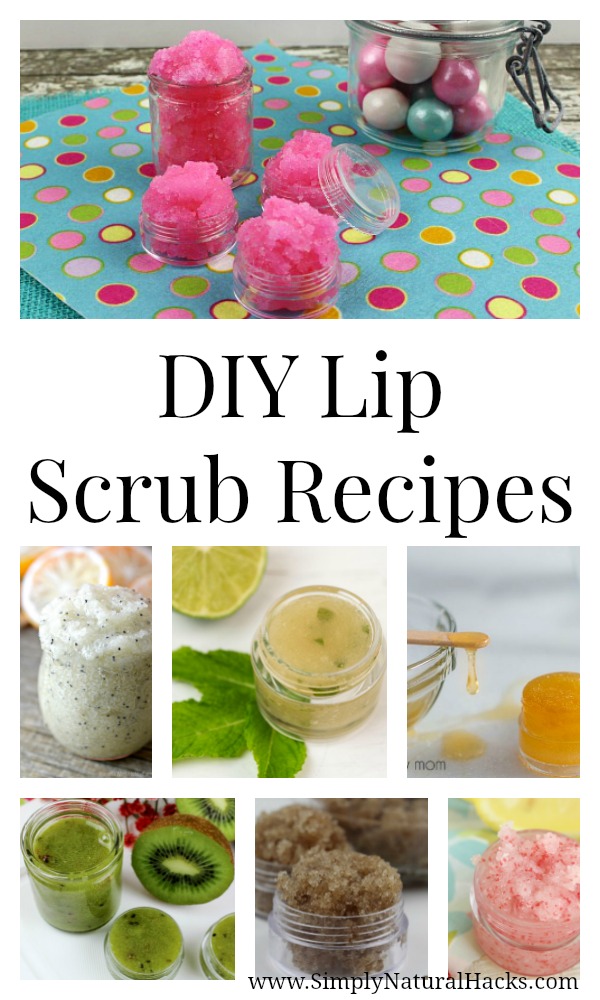 Try a springtime twist on lip treatment with this Citrus Rose Lip Scrub from Saved by Grace. It smells fantastic.
This DIY Honey Lip Scrub from Whole New Woman sounds like it smells and tastes wonderful and will do the trick quite nicely.
I would love to try this Green Tea Lip Scrub from Savvy Naturalista. It sounds like it smells amazing.
This Vanilla Coconut Mint Lip Scrub from Saved By Grace is a perfect winter scrub because it just reminds me of the season.
For a bit of a summer boost in your beauty routine, try this Raspberry Lemonade Lip Scrub from Busy Being Jennifer.
Jessoshii has another summertime-inspired lip scrub. Check out this DIY Natural Mojito Inspired Lip Scrub.
For another fruity summertime scent, try this tropical Pineapple DIY Lip Scrub From My Vanity.
Keep going with the fruity scents and flavors with this Cherry Limeade Lip Scrub from Sparkles of Sunshine.
A Cultivated Nest has a nice recipe for a Kiwi Strawberry Lip Scrub. It even has seeds in it so it's very visually appealing as well and would make a great gift!
I am an admitted Potterhead and I love the idea of any DIYs or crafts with the Harry Potter Theme. Here is a cute recipe from Happiness is Homemade for Butterbeer Lip Scrub.
Made with Oils has a great recipe with one of my favorite things; coffee! Check out this recipe for DIY Honey Coffee Lip Scrub.
Check out this sweet and savory French Toast Lip Scrub from Intoxicated on Life with Luke and Trisha.
Make a poppin' lip scrub with this Bubble Gum Flavored Lip Scrub from A Cultivated Nest. They would be cute favors or a craft to make at a kid's birthday party, too!
Check out this Lemon Poppy Seed Lip Scrub DIY from Hobby Farms for a nice scrub that contains seeds and smells nice and homey.
Bitz and Giggles has a very easy-to-make Vanilla Sugar Lip Polish that is sure to keep your lips soft.
More  DIY Beauty Tips