Use these tips to learn how to make Infused Water Recipes.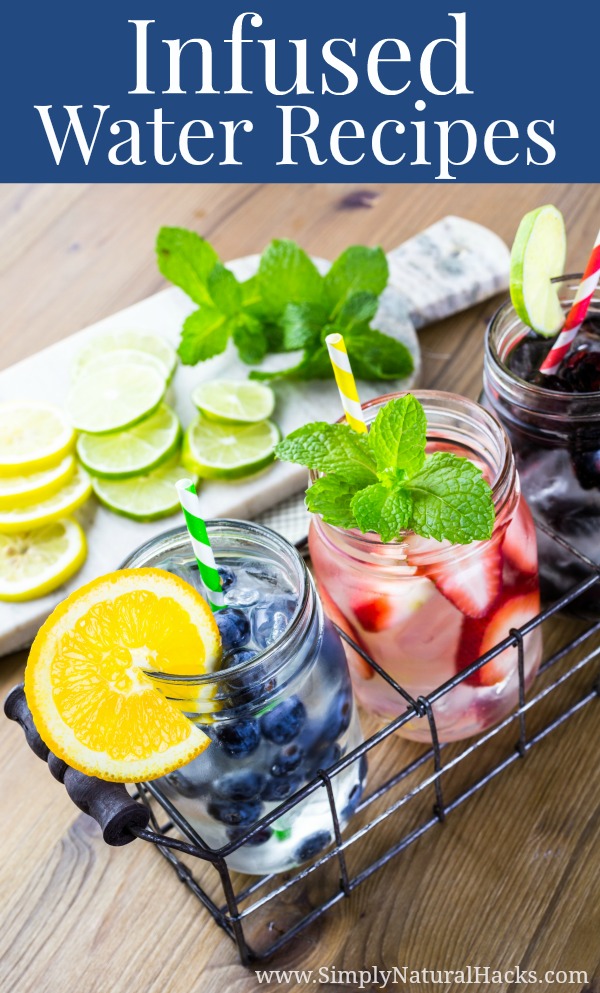 Summer is coming quicker than you can imagine and I am super excited about it. I tend to crave water during the warm seasons and being someone that loves water just as it is, that's fine with me. One thing I like to do with water when it gets boring, though, is to add some fun infusions into it.
With infused water, you get a flavor and some benefits from whatever you are infusing it with, too. Infused Water can also make it easier if you are trying to give up soda.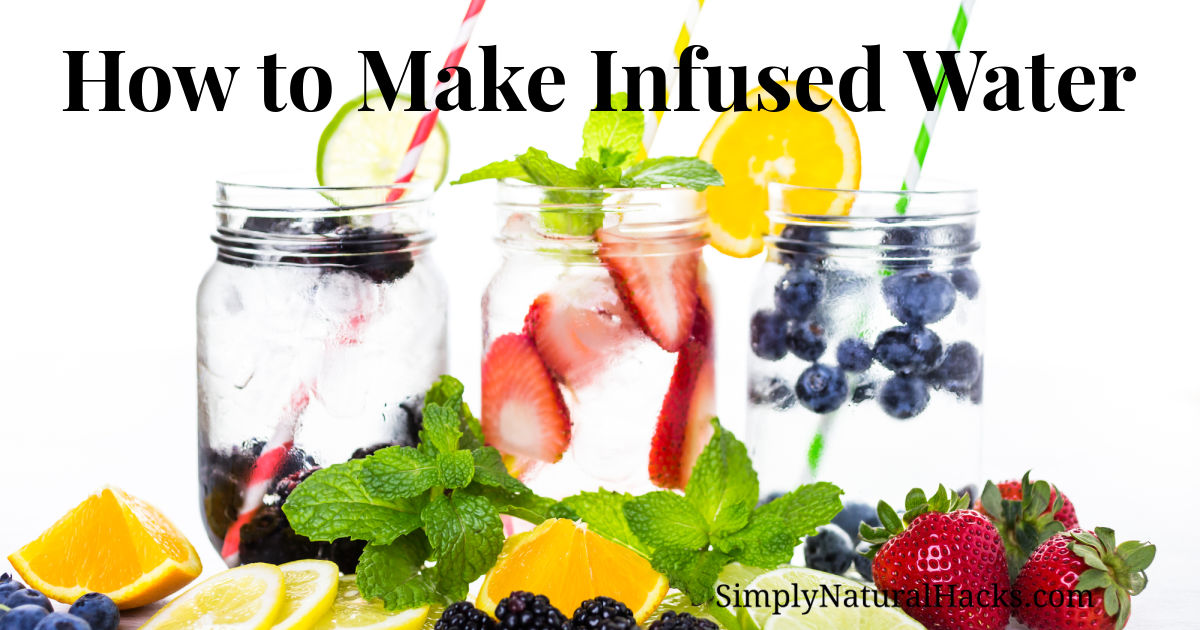 How to Make Infused Water
Infused water is so easy to make. All you need is fresh produce (fruit, vegetables, and/or herbs) and cold water.
Choose the flavor combination you wish to create. I recommend starting with fruits or vegetables that you know you like. Mixed berries, halved grapes, orange wedges, chopped apples, and cucumber slices all make a good base.
Wash and chop your produce and simply add it to a pitcher or glass, depending on how much you are going to make.
Once you have chosen your base, you can experiment by adding herbs or spices if you wish. Fresh mint makes a refreshing addition. Ground turmeric adds anti-inflammatory benefits to your water.
Then pour cold or room-temperature water over your produce. I like to use filtered water because I think it tastes better.
Put your water in the refrigerator and allow it to infuse for 2 -8 hours.
Serve chilled. And yes, you can eat the fruit and veggies after you drink the water.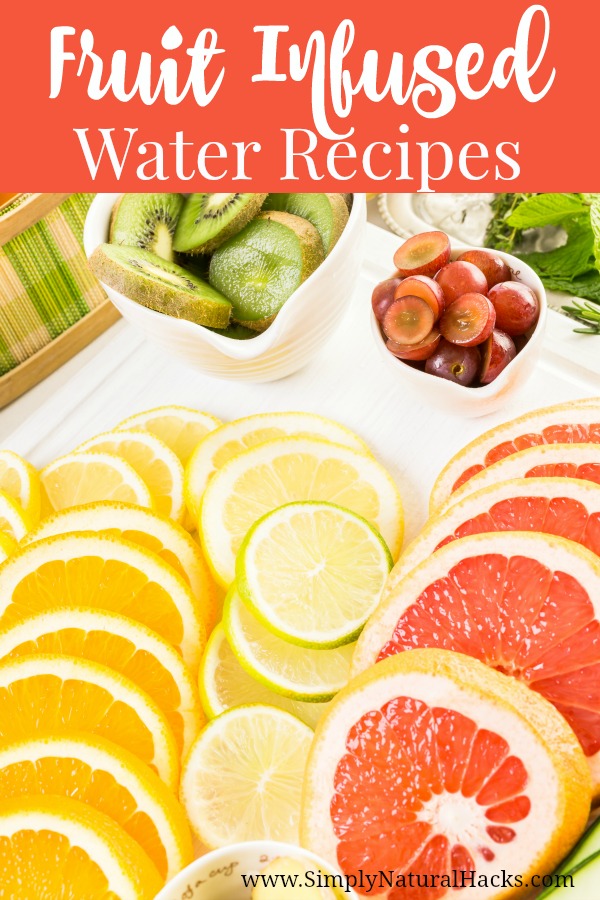 Infused Water Tips
Use cold or room-temperature water. Hot water will make the produce fall apart faster.
The more produce you add, the stronger the flavor will be. You should plan to add approximately 1/2 cup of produce to 1 quart of water.
Soft fruits like berries or grapes can be halved. Hard produce such as apples, pears, and carrots should be thinly sliced because they take longer to release their flavors.
You can crush herbs or tear their leaves to help them release their oils.
Some fruits, vegetables, and herbs produce flavor quickly such as watermelon, citrus, cucumber, and mint. So they will only need to be infused for 2 hours. Others such as apples, cranberries, and ginger take longer to infuse so you should plan to allow these to infuse overnight.
Citrus rinds can add a bitter flavor if they are allowed to soak too long. If you will be adding citrus to a recipe that will be infused for a long period, remove the rinds before adding the fruit.
If you don't drink the infused water within 24 hours, strain out the solids and refrigerate the flavored water for up to 3 days.
You can refill your infused water container when it's half full. The flavor will be weaker than your first glass, but it will still be flavorful.
Infused Water Recipes
Here are some amazing Infused Water Recipes for you to try.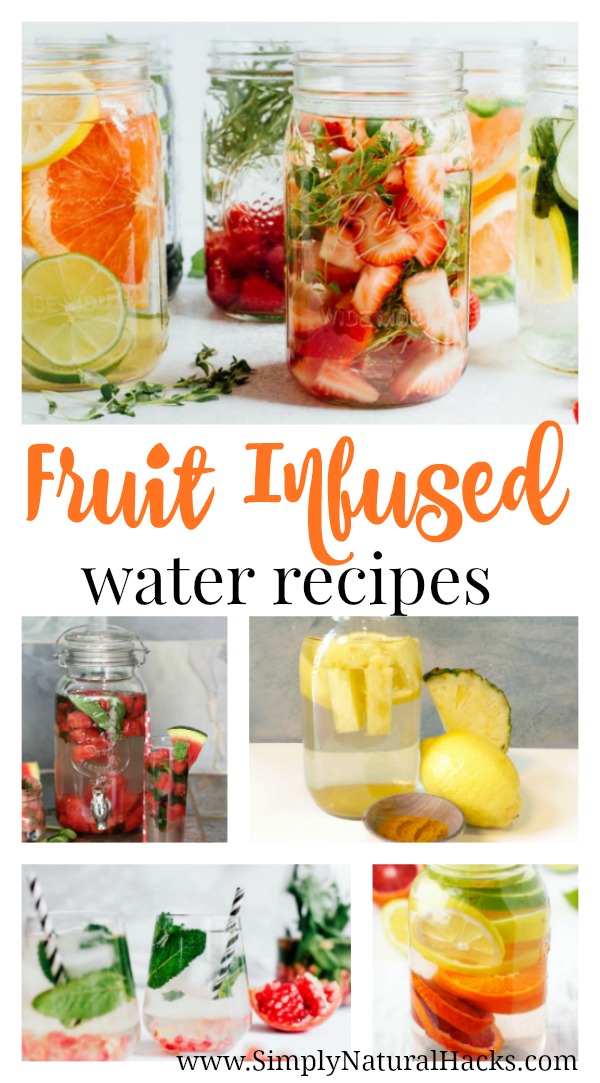 This Blueberry Lemon Mint Water recipe from Ezebreezy sounds super refreshing and fruity. Add sparkling water for a fun way to make it.
Make this Pomegranate Mint Water from Live Eat Learn for a refreshing drink at the holidays or anytime. It is perfectly refreshing with the mint added. It's ready in less than 5 minutes.
Wallflower Kitchen has an interesting combination that's fruit and floral. Check out this Rose, Lemon and Strawberry Infused Water for something really unique.
If you are looking for infused water recipes to keep your kids hydrated, try these 8 Infused Water Recipes Kids Will Actually Drink from Raising Whasians.
This Watermelon and Basil Spa Water from Mom Unleashed will make you feel like you are sipping it there. It also makes great Ice Pops, too.
Eating Bird Food has a couple of great infused water recipes on her blog from Strawberry Thyme for mood boosting to Grapefruit Jalapeno and for metabolism boosting.
You can use your Instant Pot to create wonderful infused water recipes. Check out this Cranberry Apple Infused Water from Awe Filled Homemaker.
The Pretty Bee has a delicious and fun way to drink water with her recipe for Rainbow Citrus Infused Water.
Anti-Inflammatory Infused Water Recipes
This Ginger and Fruit Infused water from Unbound Wellness boasts some benefits. It can be anti-inflammatory and refreshing all at once.
Check out this Turmeric, Lemon and Pineapple Infused Water from The Core for another recipe that can help with anti-inflammatory needs. It can also help with making your body more alkaline for added benefits.
Want something that will really wake up your tastebuds and help with inflammation? Check out this recipe from The Fit Habit for Lemon Ginger Cayenne Pepper Water.
Detox Infused Water Recipes
This Apple Detox Infused Water recipe from Budget Savvy Diva is a good one to try if you are looking for a recipe to help you feel your best.
Another easy detoxing water is this recipe from The Live Fit Girls for Easy Detox Ginger Lemonade. It has honey in it as a sweetener, so you can remove that if you want, but honey has so many benefits, I leave it in there.
Lean Jumpstart has a list of 24 Detox Water Recipes that sound like they taste as great as they look. Check out the infused detox water recipes on her blog.