Use these tips to learn how to make Natural DIY Tile and Grout Cleaners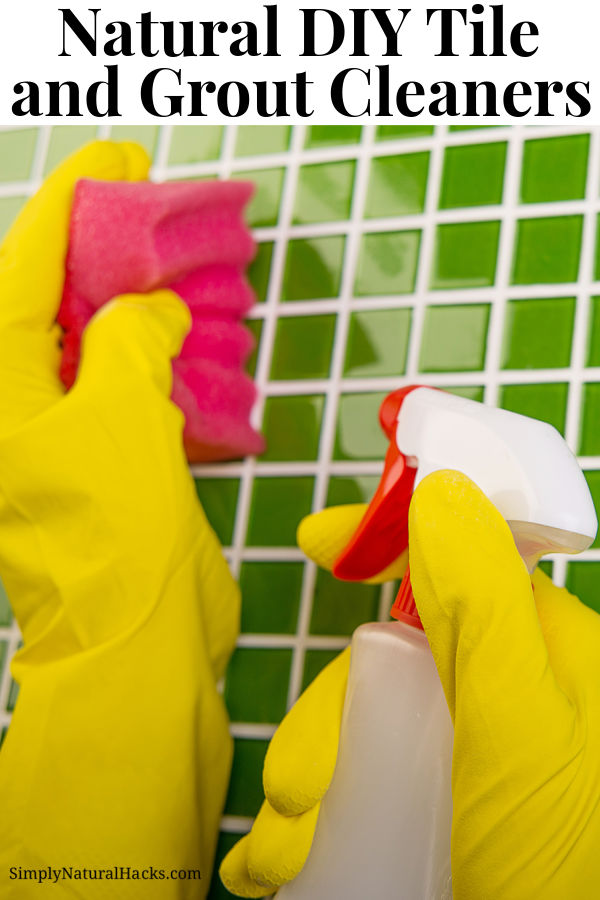 Tile and grout stains become quite a chore to tackle. Unfortunately, many of the products out there that are made to deal with this kind of cleaning are toxic or just simply full of too many chemicals. Since most bathrooms aren't super well-ventilated by means of windows to open, this means that you're stuck in a room having to breathe in all of this.
The good news is, there are lots of natural DIY tile and grout cleaners out there to make in a jiffy! let's look at some of my favorites as well as how to prevent some stains in the first place.
Ways to Prevent Dirty Grout and Mold
If you can prevent your grout from getting dirty or moldy, it will make it easier to keep clean.
Allow your bathroom to air-dry after every shower.
One of the most important ways that you can keep mold, mildew, and other problems away, is by making sure that your bathroom is as ventilated as possible, and by giving it enough time to air dry between showers. Almost every bathroom comes with a fan so make sure you use it after a shower to help get rid of a lot of the moisture in the air. Don't shut the door right away after bathing, either.
Wipe up water.
Many mold problems start by allowing moisture too long on surfaces. Make sure that after showers you are wiping the floor, paying special attention to the molding and tiles. you don't have to neurotically wipe up every drop of water, however, try not to let water sit on the floor.
Tackle stains right away.
If you accidentally spill something, make sure you clean it up as soon as possible. Also, make sure to handle any stains right away so they don't have a chance to set.
Natural DIY Tile and Grout Cleaners
Now let's look at some ways that you can make your own tile and grout cleaners with products you probably already have at home.
My Cleaning Solutions has a great DIY Tub and Tile Cleaner that only uses 3 ingredients.
This Homemade Tub and Tile Cleaner from Pins and Procrastination is easy to make and costs less than a dollar so it's a great spray alternative.
I used to love using SoftScrub but found the smell to be too overpowering. Make your own 'Soft Scrub' Gently Abrasive Cleaner with this easy recipe from Saved By Grace.
If you decided to upgrade or replace your grout, you might be familiar with the haze that is now on your tiles. This 'Grout Haze' DIY Remover/Cleaner from The Creek Line House will work like a charm to get rid of it.
As an alternative to making my own grout and tile cleaner, I sometimes use Seventh Generation Bathroom Cleaner.  It foams up nicely.
More Natural Cleaning Ideas
Natural Ways to Clean Your Carpet