Have you heard people talking about their push goal and wondered what is?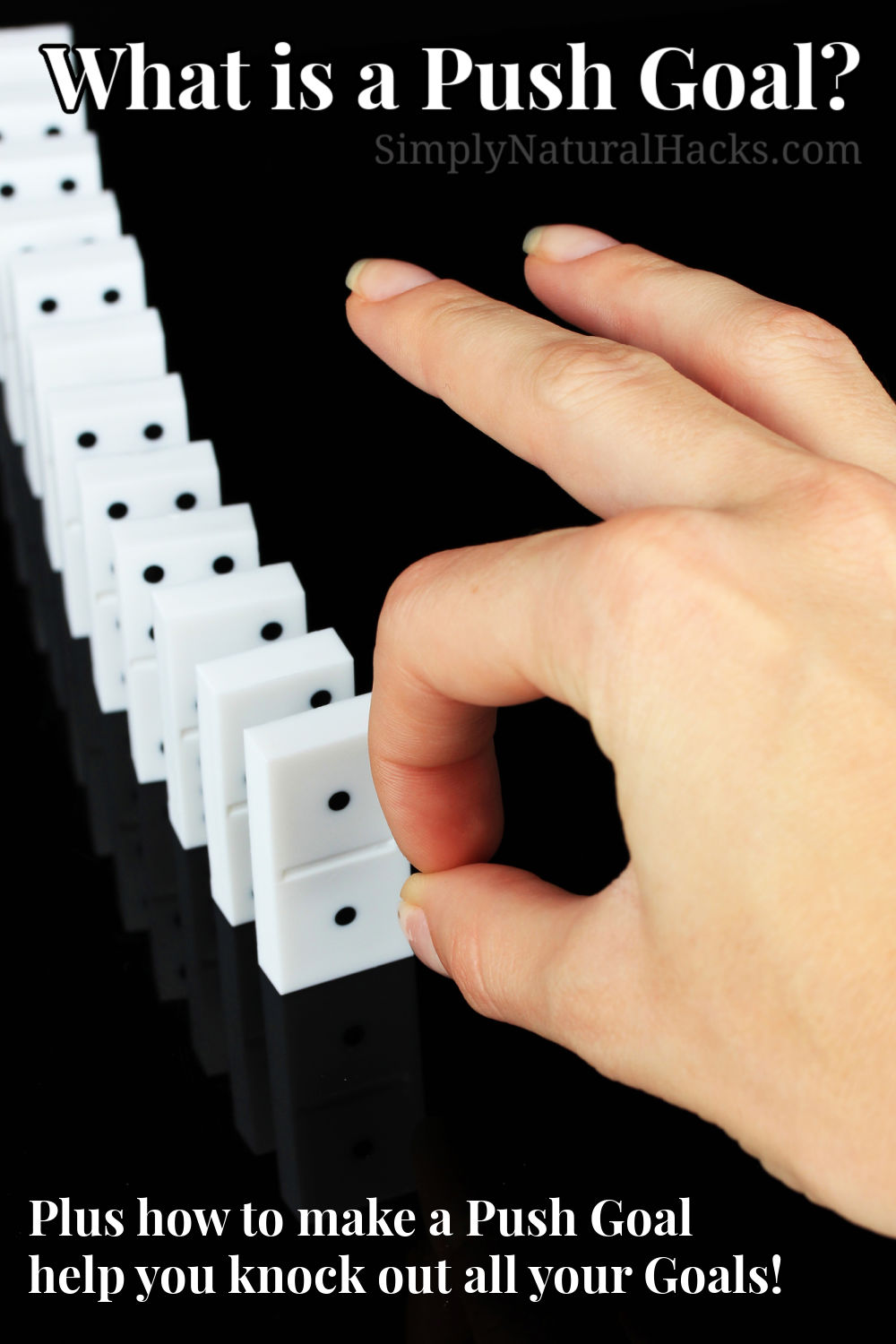 What is a Push Goal?
It is not your most important plan or your biggest goal or even the desire that is closest to your heart. A Push Goal is a goal that if achieved, creates momentum in other areas that will make your other intentions possible.
While many people use the term Push Goal, it was originally coined by Chalene Johnson. She talks about it here. She encourages people to make 9-10 goals for a 3 month period. However, you can choose to make fewer goals and/or make your goals over a longer period of time.
Have you made a list of goals for the new year? Now brainstorm and come up with ONE THING you can do to help make all of your goals a reality. This is called your PUSH GOAL!
Push Goal Examples
Let's say these are your top 3 goals:
Fit into your goal jeans
Learn to paddleboard
Go on an adventure vacation
Your push goal could be completing three workouts a week. Because that would help you to fit into those jeans, get stronger for your paddleboarding, AND boost your endurance for all of that walking on your trip.
Or maybe your top 3 goals are to:
Work fewer hours
Spend more time with family
And still, save toward retirement
Your PUSH goal could be drilling down into your time management so that you can make the most of your work time … to create more free time! Once you drill down, you may find a couple of timewasters that you can eliminate or a schedule change that you can make to allow you to be more productive in less time.
An effective Push Goal will have a domino-like effect. Once you start effectively implementing your Push Goal, you will start knocking out your other goals.
Sometimes your Push Goal is already on your list. For instance, if you have several time-intensive business goals on your list as well as "delegate more tasks" and "hire an assistant" on your list, then you would hire and train an assistant FIRST as your Push Goal. Then you could delegate tasks to your assistant, and then you will have time to tackle those time-intensive business goals.
What if instead of only 3 goals, you have made 5 to 10 goals for the year? You may find that one push goal will not move you towards success in all of your annual goals. So you may want to make more than one push goal.
A push goal is not pushing yourself to work harder or do more. Instead, it actually makes it easier to achieve the other goals on your list. Read How to Create a Push Goal for more tips.
Remember, your goals should be SPECIFIC and MEASURABLE so you have a real target and a way to keep tabs on your progress. You should keep track of your Push Goal as well as your other goals. You can do this by adding a spot in your current planner or by getting a dedicated Push Planner or Push Journal.
Need more help with achieving your goals? Get our FREE Goal-Getting and Habit Stacking Guide with Printable  Monthly Habit Trackers.
You can also join our private Facebook Group Just Take Small Bites where we are tackling our goals one small bite at a time.