Learn how to make DIY Bath Bombs with these tips.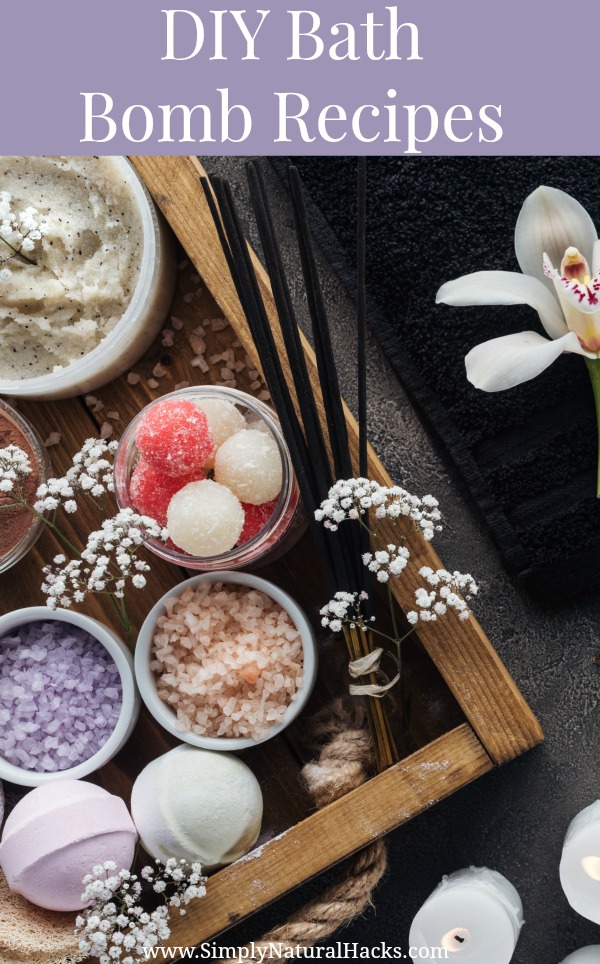 Bath bombs are so much fun for kids and adults of all ages. When I want to jazz up that boring old bath with something fun, I am glad I can reach for a bath bomb for a fizzy, fun fragrance in the tub. The best part of bath bombs is they are so much fun to make and they are excellent gifts! I have had lots of fun making bath bombs with my kids and with friends, too! Get in on the fun with these simple DIY Bath Bombs.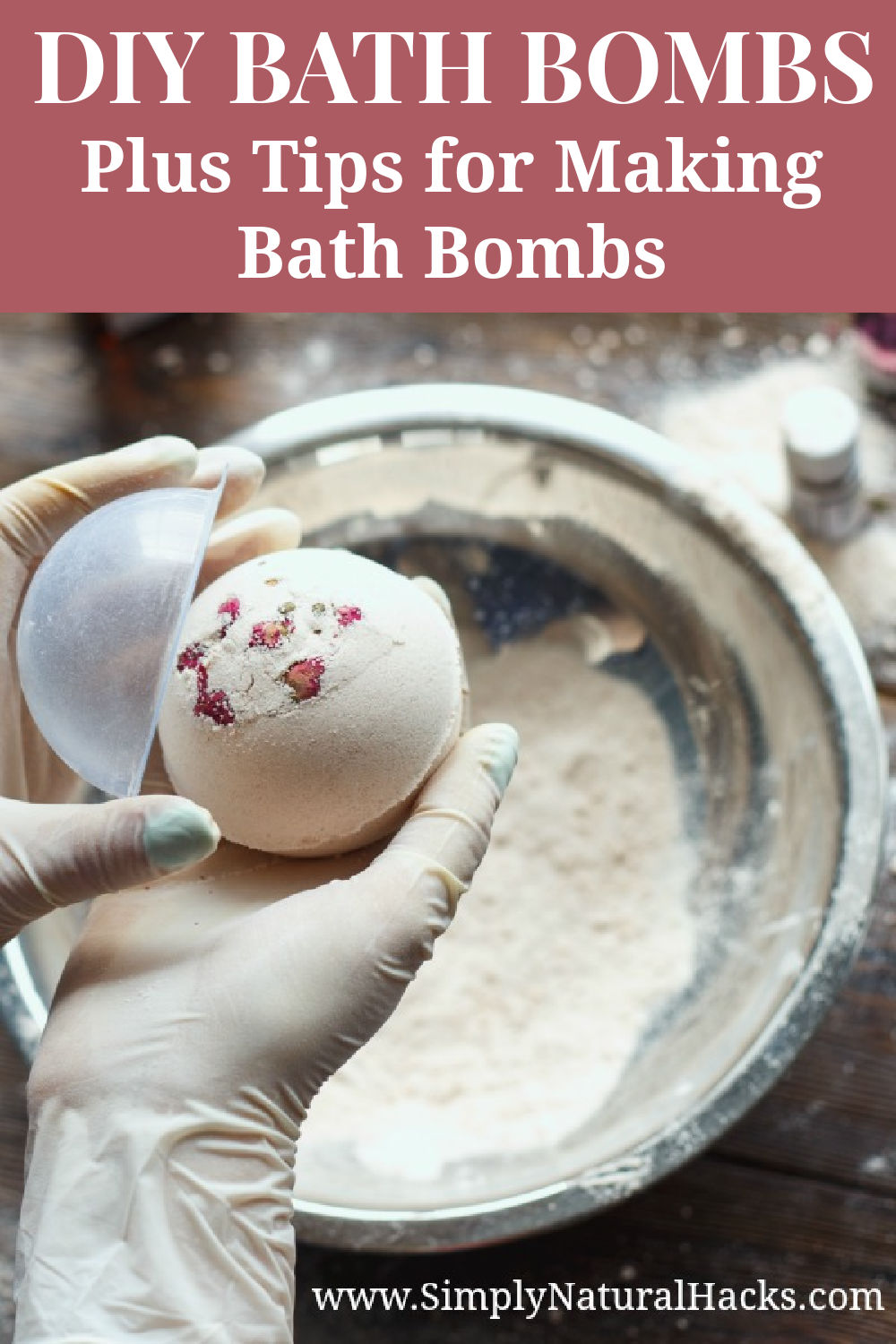 Tips for Making Bath Bombs
1. Sift your dry ingredients to remove any clumps. Clumps in your dry ingredients will cause lumps in your bath bombs and may make them more likely to crumble. You can use a sifter or push the ingredients through a sieve.
2. Thoroughly mix your dry ingredients to ensure they are well-blended.
3. Add liquid a little at a time. Too much moisture will set off the fizzing and will also make it hard for your bomb to set properly. You will need a  spray bottle filled with witch hazel. Spray only once or twice, then mix. Try to squeeze some together into a ball. If it holds without crumbling, it's ready to start putting it into the molds. If it crumbles, spritz the mixture with witch hazel, mix, and try to form a ball again. Repeat until it holds together.
4. Lightly pack the molds. If you pack them too full, they will be hard to remove from the molds.
5. Before placing your mixture in the molds, you can add a few drops of mineral oil to your mold. Ensure the mold is coated, then wipe out excess with a rag. This will help your bombs unmold easier.
6. To get the bomb out of the mold in one piece, tap the mold gently with a spoon or lightly tap the mold on the table.
7. To avoid a flat bottom, cover a muffin tin with plastic wrap to create "hammocks" for your bath bombs. After unmolding your bath bombs, set them in the hammocks to dry.
8. Allow your bombs to dry for 24-48 hours. Then place them in an airtight container or an airtight bag.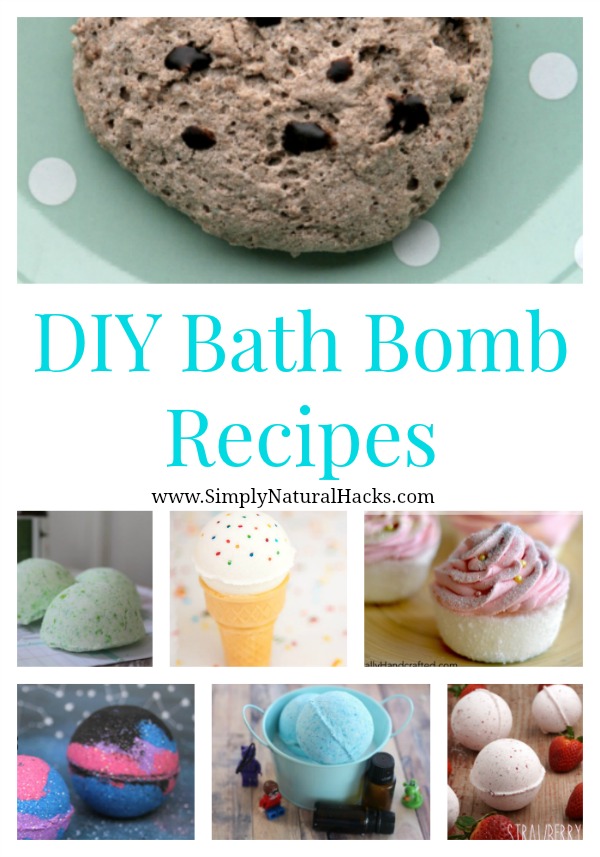 DIY Bath Bombs 
Make these Eucalyptus Bath Bombs for soothing stuffy noses and coughs during the cold and flu season.
Peppermint Bath Bombs can be perfect for aches and pain when you need a bath to relax and wash them away.
These Chocolate Chip Cookie Bath Bombs from Saved By Grace are as fun to make as they are to use. Just be sure not to eat them even though they look delicious.
Make these Hemp and Milk Bath Bombs from Saved By Grace for a truly skin-nourishing and soothing bath time.
Modern Homestead Mama has some super soothing DIY Herbal Bath Bombs containing Camomile, calendula, and lavender.
I love the bright color and scent combination of these DIY Watermelon Lemonade Bath Bombs from Once Upon a Bath.
These DIY Bath Bombs for Sore Muscles from Anchored Mommy are great for anyone that needs bath time to be an extra relaxing experience.
Nightmare Before Christmas and Halloween fans will love these DIY Jack Skellington Bath Bombs from A Pumpkin and a Princess.
Mom Always Finds Out has a deliciously scented bath bomb idea. Check out her Strawberry Scented DIY Bath Bombs.
DIY Cupcake Bath Bombs from Naturally Handcrafted are the perfect way to give something that looks like lots of fun.
I just love these DIY Ice Cream Cone Bath Bombs from What's Up Moms. It just looks so stinkin' cute!
Galaxy Bath Bombs are great because they really make the water a cool shade of mixed colors! Check out how to make them from Steam Powered Family.
These Soothing Surprise Bath Bombs for kids are so much fun to make and when you have a kiddo that needs an extra bit of fun or something soothing for that bedtime routine these are great.
Lavender Rosemary Bath Bombs are great for giving your girlfriends whenever you are putting together a spa gift set. They smell heavenly!
More DIY Beauty Products