Use these tips to learn Natural Ways to Clean Your Carpet.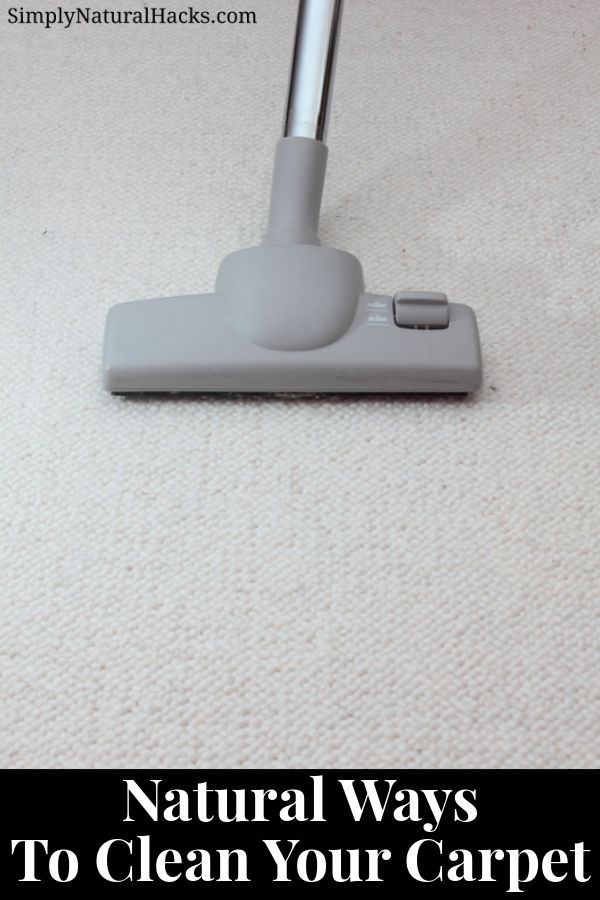 Keeping your carpet clean can present quite a challenge. Especially, since we're heading into a season that's known to carry a lot of mud. Don't worry, as keeping your carpet clean the natural way is inexpensive and easy to do. 
Natural Ways to Clean Your Carpet
There are many natural ways to clean your carpet that you probably have ingredients for right in your home right now. Here are some great ways to clean your carpet, naturally.
Try to prevent messes.
First, try to keep your carpet as clean as possible, to begin with. This means not allowing shoes indoors, wiping off the paws of pets as they come inside (especially on rainy days), and trying to contain stain occurrences by keeping drinks out of carpeted areas unless they have a lid. You can also keep carpets in better shape by purchasing rugs to place over high-traffic areas. Just make sure to regularly clean under them as rugs can actually grind in dirt further if you don't.
Stick to a vacuuming schedule.
Carpet experts will tell you that vacuuming is one of the single most important things you can do to keep your carpets clean and fresh as well as longer-lasting over time. I like to make it a point to vacuum as many times per week as household members. If you have 4 household members, that means at least 4 times a week in common areas.
Treat stains as soon as they happen.
Don't allow stains to set. This will make it much harder to clean and in some cases impossible. When a stain happens, make sure to remove as much of the solid materials such as sauce, before treating the stain. Then clean the stain before it dries. This DIY natural carpet spray from DIY natural is a great way to treat stains as they happen.
Homemade Natural Carpet Cleaners
If you have especially hard-to-remove stains, this DIY Stubborn Carpet Stain Remover from The CreekLine House is great for helping with this challenge.
For simply freshening up carpets, you should try Homemade Carpet Deodorizer from Holistically Engineered. It is great for in-between deep cleanings and it's dry so it's easy to make ahead and have on hand.
If you are interested in doing a deep clean and you have a steam cleaner, this Non-Toxic Carpet Cleaner from Oily Rockstars is great for this. It is safe for children and pets!
Green Carpet Cleaners You Can Purchase
If making stuff is too much for you or you just aren't a DIY queen, here are some of the products I recommend:
Puracy Carpet Cleaner Concentrate for Machines or Hand Cleaning- This cleaner is plant-based and non-toxic, plus, it makes 20 gallons.
Earthworm Carpet and Upholstery Cleaner– This cleaner is a good spot treatment and it's completely safe for kids and pets.
Bodhi Pet Carpet Powder– This plant-based deodorizer helps remove and neutralize pet stain odors.
More Natural Cleaning Tips
Natural DIY & Grout Cleaners