Use these natural ways to clean your bathroom sink to clean your bathroom without harsh chemicals.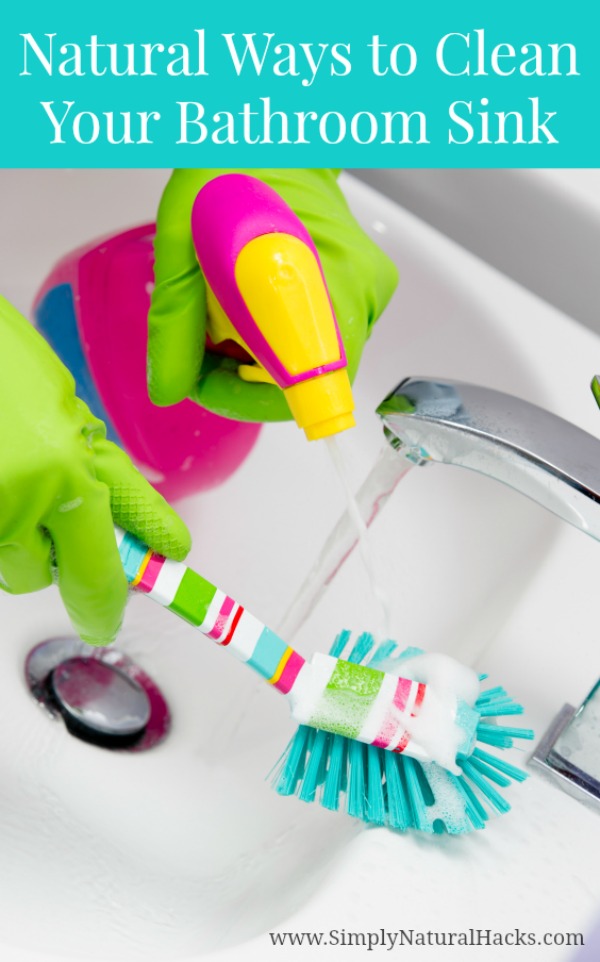 The bathroom sink is an incredibly easy place to clean in our homes and there are many DIY and natural cleaners for this area, too. Keeping your bathroom sink cleaner, longer can also be accomplished with just a few extra habits you create, too, making cleanup even easier later down the road. Here are some natural ways to clean your bathroom sink, including stain removal for those hard to clean spots.
Natural Ways to Clean Your Bathroom Sink
Baking soda and water make a great cleaner– Make a paste of baking soda and water and it will clean tough stuff like dried on toothpaste and soap scum. It will also make your fixtures sparkle and remove hard water spots. Just mix 1 cup of baking soda and add a bit of water, mixing until a paste forms.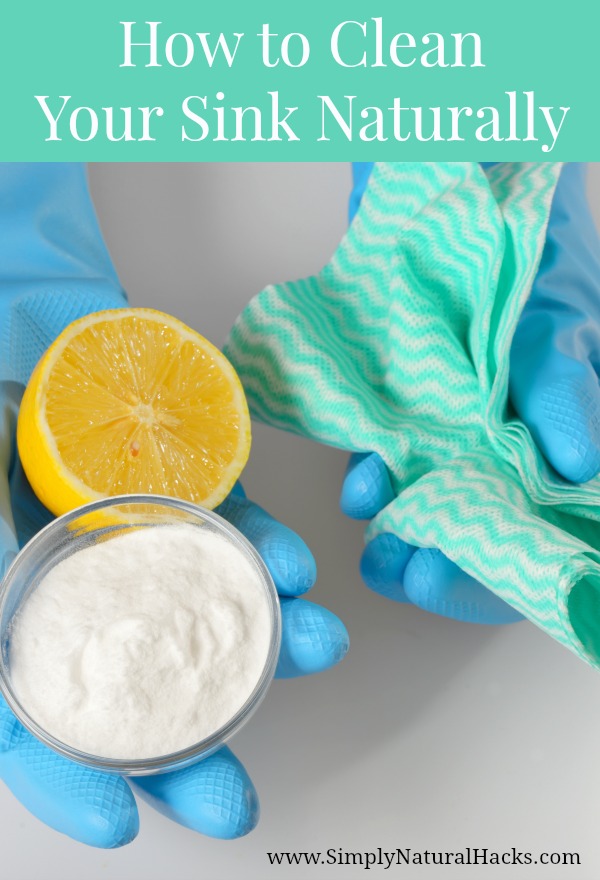 A lemon with salt is an amazing cleaner for certain stains– If you have some spots on your sink that aren't as bright as they could be, a lemon cut in half with salt on it makes a great cleaner that also brightens.
Make your own easy bathroom cleaner– Live Simply has an easy DIY bathroom cleaner that's perfect for sinks, tubs and showers and it smells amazing, too. She also says it can be used to clean stains on carpets, so that's a great bonus.
Clear drains that are slow with a 3 ingredient drain cleaner– Mix 1 Cup Baking Soda, 1 Cup of salt and ¼ cup of cream of tartar and pour it down your drain. Allow it to sit for a minute and then pour a tea kettle with hot, boiling water down the drain.
Detail your sinks with cotton swabs and old toothbrushes– I'm always looking for ways to reuse things before tossing them and I love to use old toothbrushes for all kinds of cleaning projects. They are great for scrubbing around faucets and cotton swabs finish up the job nicely.
Get rid of stains like rust with Barkeeper's Friend– Barkeeper's friend is not 100% all natural, but it is a good alternative to other cleaners on the market and does a great job. It is biodegradable and doesn't contain phosphates. It cleans rust very easily.
Keep faucets and fixtures looking nice with orange essential oil– Sprinkle a couple of drops of orange essential oil on a clean cloth and polish your faucets and all metal surfaces with it for a shine that's great and keeps hard water deposits from developing.
Natural Bathroom Sink Cleaners You Can Purchase
If DIY isn't something you have time for right now, I recommend the following sink and bathroom cleaners.
Seventh Generation Lemongrass Bathroom Cleaner is one of my favorites to use because it smells so amazing and does a wonderful job on so many surfaces.
Method Foaming Bathroom Cleaner in Eucalyptus Mint is very effective and great because it foams up.
Natural Homelogic Citrus Bathroom Cleaner is plant based, and also vegan and cruelty-free.